The ups and downs of low dose ionising radiobiology research
Seminar/Forum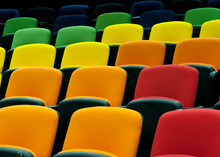 Hercus Theatre
Physics South

Map
Pam Sykes is Professor, Preventive Cancer Biology in the Flinders Centre for Innovation in Cancer at Flinders University, South Australia. Her research focus over the last 15 years has been the study of the biological effects of low dose ionising radiation, and also utilising low dose biological response mechanisms for cancer prevention and treatment. She will give an overview of her research and also discuss the challenges inherent in studying low doses of radiation.
Presenter
Professor Pamela Sykes

Flinders University

Prof Pamela Sykes has a PhD in Genetics and has worked in the area of molecular genetics in Australia and the US over the last 25 years. Prof Sykes is a Strategic Professor in the area of Preventive Cancer Biology and heads her own research group of staff and postgraduate students studying the biologiical effects of low doses of ionising radiation. Her current research is focussed on studying the protective role of low dose radiation. Some of her current appointments include membership on state and national committees for radiation protection and she is an Associate Editor for the journal Radiation Research.