Underground experimental tests of Quantum Mechanics: whispers in the cosmic silence?
Seminar/Forum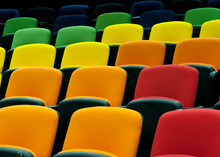 Laby Theatre
Physics South Building

Map
One of the pillars of modern physics is the quantum theory (QT), which, in spite of its tantalizing success, continues to generate many debates, rooted in its puzzles, which trigger theoretical and experimental efforts towards a deeper understanding of the underlying mechanism, in parallel with the exploitation of the genuine quantum properties for future quantum technologies. I shall present and discuss experimental investigations in the "cosmic silence" of the Gran Sasso underground laboratory in Italy of two of the most fascinating features of the quantum theory: the spin-statistics connection and the collapse of the wave function.The VIP experiment is testing the Pauli exclusion principle for electrons, with unprecedented accuracy; I shall present the achieved results and briefly discuss the implications of a possible violation, together with the future plans.I shall then introduce a dedicated underground measurement of the spontaneously emitted radiation predicted in the framework of collapse models, introduced to solve the "measurement problem", which mapped the landscape of these models; I'll discuss future plans and implications for the quantum technologies. Finally, I will propose that similar experiments could be performed in the underground laboratory presently under construction in Australia, which would not only contribute to increase the sensitivity, but also to realize additional important explorations.
Presenter
Dr Catalina Curceanu, LNF-INFN, Frascati (Italy) and University of Wollongong (VISA)