Searching for high redshift galaxies: How many are we missing?
Seminar/Forum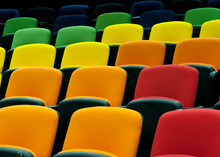 Geoff Opat Seminar Room
David Caro Building

Map
More information
T: 83447670
The search for high redshift objects has rapidly developed in the last decades, with the current frontier being 13.4 Gyr lookback time. In this talk I will present the search for high-redshift galaxies in two different surveys and the development of an open-source python tool for simulations of source recovery and completeness in galaxy surveys.
Presenter
Daniela Nunez, School of Physics, University of Melbourne